Auto Repair Shop And Auto Body Shop Steel Buildings
Ironbuilt has designed and supplied thousands of easy to construct steel buildings for auto repair shops and auto body shops. Clearspan widths of up to two hundred feet allow for you to configure your floor space easily fitting vehicle lifts, tool cases, work benches, break areas, restrooms or customer waiting areas. Economically build tall enough to place a lift right against the wall and place your doors where they need to be in order to control the flow of traffic in and out of your garage shop. Ironbuilt metal car shop buildings are easily customized with insulation, fans, lighting, heaters, air-conditioners, duct work, and even car engines to be suspended from the roof members.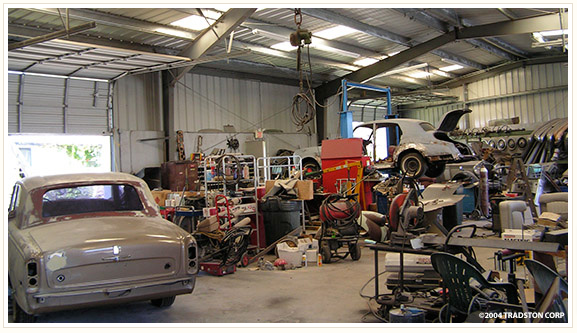 Auto Repair and Body Shop Buildings Gallery

Car Repair Shop Metal Buildings
You will be able to work comfortably all year round in our easy to insulate and climate-control steel building system. Energy Star® rated colors on your steel panels are available so you can keep your building cool all summer. Economically insulate your auto body steel building with commercial grade insulation packages ranging from R10 to R38. Ironbuilt can also supply garage doors, entry doors, windows, louvers and exhaust fans which can be flexibly placed in any of the walls.
The Ironbuilt pre-engineered metal building design allows for diversity. Stucco, EIFS, block and concrete walls can be used with our steel building frames and our polyester baked on enamel sheeting to architecturally blend in with the other buildings on the property and in the area.
Auto Body Shop Metal Buildings Advantages
Call Ironbuilt today at 800-805-0084 for more information and pricing for your car repair shop and auto body shop steel building.