Metal Church Buildings, Steel Church Buildings, Church Construction
Ironbuilt Steel Buildings has helped many congregations for over thirty years to get the church they wanted yet stay within the funds budgeted. Metal church buildings from Ironbuilt save on expensive architect fees and have a functionality and beauty to be admired. Our steel church buildings can be customized to fulfill your congregation's present needs and still allow for you to expand at an affordable cost in the future.
Your congregation will save money by using a pre-engineered church steel building that goes up in considerably less time than conventional wood frame or masonry construction. Additional huge savings can be found by having your church members assist in the construction of your Ironbuilt steel building.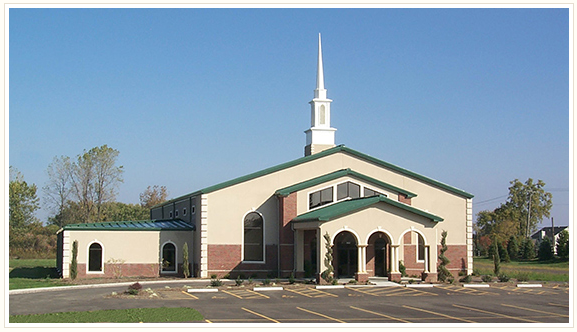 Church Metal Building Gallery

Steel Hangars, Custom Airplane Door Systems
Our experienced church project designers will help you effectively layout the floor plan of your church. You will be able to incorporate space for an interior narthex or greeting area, offices, classrooms and bathrooms. Ironbuilt can design your church metal building with the flexibility to have a large open sanctuary area for services that can double as or be easily later converted into classrooms, dining and kitchen or perhaps a recreational wing. An inexpensive drive through portico with columns at the main entrance can be integrated into the design that adds both an important architectural accent and allows for people to be dropped off and picked up out of the weather.
Your building will be engineered to accommodate all of the church activities and functions you foresee. Point and collateral loads can be included in the design of the steel frames to allow for lighting, sound systems, basketball hoops, heating/cooling units and video equipment to be suspended from the ceiling or on top of the roof. With an Ironbuilt steel church building custom exteriors such as stucco, EIFS, brick veneer or decorative block can be simply integrated for an attractive outside appearance.
Ironbuilt's team of experienced professionals offers complete support for your church building project. You will be able to access our network of factory certified church builders through our contractor services department and they will help you with whatever level of church construction assistance you need. Our project managers can help you select a builder to erect your building and finish the interior or perhaps offer only a construction consultant if you would like to use the community labor of your own congregation.
Ironbuilt Steel Churches Features
From initial floor plan design and determining whether you need to hire an architect to the final completion of your church metal building, Ironbuilt will be with you at every stage of the construction. Call Ironbuilt today at 1-800-805-0084 to get your church project started today!