Commercial Steel Buildings, Retail Buildings, Metal Commercial Buildings, Office Buildings
More business owners are choosing 
prefabricated commercial steel buildings
 for the construction of their 
retail stores
, strip malls, mini-storage, office buildings, 
metal warehouses
 and distribution centers than ever before.  
Steel commercial buildings
 have superior strength and are far easier and faster to construct than conventional building materials. We can customize the look of your building incorporating stucco, EIFS, wood, masonry or large windows for a storefront while keeping the design simple and the project affordable. Utilizing an Ironbuilt Steel commercial building for your project is a sound investment in your company's future.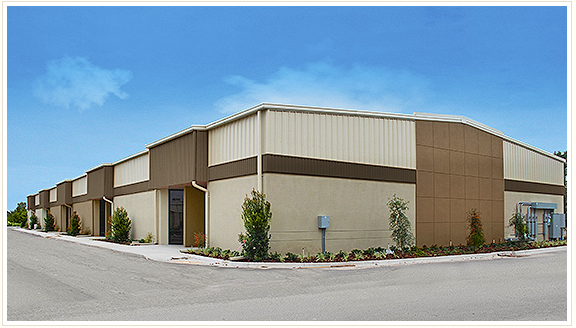 Commercial Metal Buildings Gallery

Metal Storage Buildings, Steel Building Warehouses and Office Buildings
With tighter corporate construction budgets it is critical to optimize your buildings funds when considering what type of construction materials to use. Ironbuilt's commercial steel building systems save critical time on construction as all the components are pre-engineered. This produces large savings off construction labor as all the components are pre-punched, pre-drilled and pre-welded before the building arrives at your jobsite. Our commercial steel storage and warehouse buildings are efficiently cost engineered without sacrificing quality or strength and these savings are passed onto you in our low prices. Ironbuilt buildings will always get your project completed on time and on budget.
In addition to saving up to 50% off of traditional construction materials with our flexible design, you can also quickly and economically expand your Ironbuilt building at a later date. Our easy to follow manual, blueprints and unmatched support during the erection of your building allow for a streamlined process from the beginning to the completion of your construction.
Ironbuilt steel metal commercial buildings are manufactured with only the best USA made commercial grade steel and are backed by the best metal building warranties in the industry. Every building includes a 25 year steel mill backed rust perforation warranty on the Galvalume® roof panels, a 40 year warranty on silicon polyester color coatings and a lifetime warranty on the fasteners. Our buildings are precision manufactured with these materials to ensure you will require little or no maintenance and avoid the costly building repairs found in conventional wood or masonry construction.
Ironbuilt Commercial Steel Building Advantages
Contact our Commercial project designers at 1-800-805-0084 today and let us show you how we can engineer your building to help you produce greater profits.