RV Storage Buildings & Boat Storage Garages
When your work is done and it's time for fun and relaxation, you want your big toys to be ready to roll. Let Ironbuilt's in-house engineers design the perfect RV storage garage to protect your investments from the weather.
Our pre-engineered garages can span up to 200′ wide without interior beams or posts which allows greater flexibility to arrange or move your vehicles inside the building. Ironbuilt's clean frame design eliminates areas inside your RV storage building where birds can perch in the roof and make a mess of your cars, trucks, motorhomes, boats and jet skis below.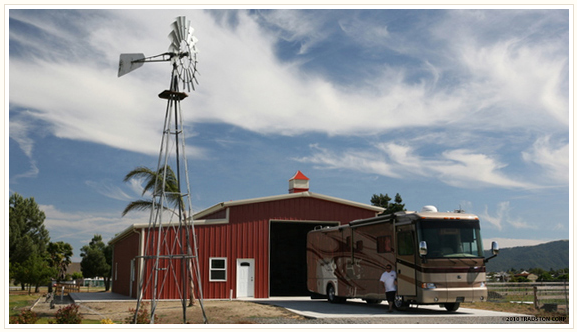 Metal Buildings For Storage of Your Recreational Vehicle
Ironbuilt's flexible design allows for you to place your recreational vehicle garage building on jobsites where you have limited width, length or height. The custom placement of garage doors that are large enough to get your oversized vehicles in and out comfortably is easily accomplished with our 
metal buildings
. If you have existing buildings on your property, we can match the color and even custom manufacture to allow for large glass windows, Dutch doors, brick, block, stucco or wooden walls. Our steel 
RV garages
 can also be engineered with a multitude of shapes that add architectural accents such as a monitor style or a hipped roof with a selection of canopies, lean-tos and openings to blend in perfectly. They can also be easily expanded at a later date to increase your covered area and protect more of your valuable property.
Easy To Assemble RV Storage Steel Building Kits
Since Ironbuilt buildings are totally prefabricated there is no field drilling or welding required which dramatically cuts construction time and saves you money. The easy to follow blueprints and plans combined with the simple design and extensive customer support, allow even novice builders to confidently erect your storage garage. Your Ironbuilt RV garage can save you up to 50% off the price of conventional construction materials. You can own your Ironbuilt 
prefab garage kit
 with confidence because they are built to last. Using only the best high quality commercial US steel every building comes with a 25 year limited roof warranty, lifetime warranty on stainless steel screws and a 40 year warranty on the paint.
Ironbuilt RV Garage Advantages
Call us today at 1-800-805-0084 to discuss your project and see how Ironbuilt can help you start to finish with your RV and Marine boat building project.