200' wide X 120' long X 30' high Barge Repair Facility In Georgetown, Guyana, S.A.
Exporting Metal Buildings With Ironbuilt
Ironbuilt has been exporting metal building systems world wide for over 30 years. The international export specialists employed in our shipping department have the experience you can rely on to manage both the ocean freight and inland transportation to get your building material delivered safely to the international jobsite. In addition to the trans-oceanic freight, Ironbuilt's shipping department is accustomed to managing the logistics of the entire process including customs brokerage paperwork, proper insurance and containerization with special packaging.
Whether you have previously exported goods from the USA or this is your first experience, Ironbuilt's International division and steel building export specialists simplify the process for our International customers with special export services.
Ironbuilt Steel Buildings International Services
Ironbuilt steel buildings are preferred in the Caribbean countries and island nations because of their strength, durable coatings on the steel and the high quality of the materials. They are designed to withstand extreme climatic conditions including hurricane force winds and are Florida Hurricane Zone approved for 170mph winds. All the secondary framing, girts and purlins are shipped with a hot dip galvanized coating from the steel mill for extra rust protection from marine conditions. Our pre-engineered metal building kits are cost effective and designed to offer years of maintenance free use.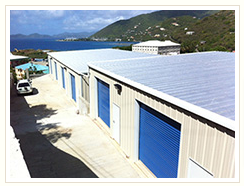 Ironbuilt metal buildings have been shipped throughout the Caribbean, including the US Virgin Islands, Bahamas, Antigua, Trinidad and Tobago, Dominica and Haiti. Our specialists have facilitated delivery of preengineered steel buildings in remote locations all over Africa and throughout every country in South America with numerous shipments to Chile, Brazil, Equador, Suriname and Guyana.
Interested in joining the Ironbuilt team of international distributors? Fill out the dealer inquiry form or call today to learn about profitable opportunities that may be available for metal building sales in your country.
If you require additional information or need a Free custom metal building export price quote including freight, contact Ironbuilt Steel Buildings at 1-800-805-0084 or request online pricing.