Industrial Steel Buildings, Metal Building Welding Shops
Ironbuilt Steel Buildings has extensive experience in the design and manufacture of 
steel industrial buildings
 including 
metal warehouse buildings
, steel crane buildings, recycling centers, waste transfer stations, 
welding shops
, mezzanines and controlled environment utility buildings. Regardless of the complexity of your project, we can provide your company with a metal industrial building that encompasses all of your needs. Our engineers can design pre-engineered industrial buildings to integrate a variety of special features including firewalls, insulated panels, noise control systems, custom epoxy or galvanized frame coatings and any type of crane. Every building is engineer certified for your state and will meet all your local building codes. Ironbuilt buildings are not just engineered with a high commitment to safety but also for durability to withstand the aggressive activities that take place in Industrial businesses.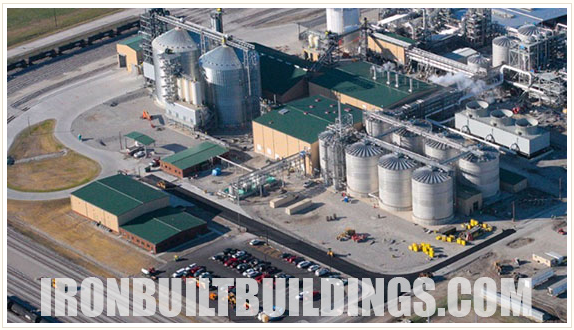 Prefab Industrial Building Gallery

Metal Crane Buildings, Steel Warehouse Buildings
Ironbuilt will take your crane specifications and custom engineer a building to support the crane, rails and the maximum weight of the crane's load capacity. Whether it's a monorail, bridge, jib or gantry crane your building will be designed to incorporate every aspect of your crane system. If the specifications require, we can single source supply all rail brackets, crane rails and crane systems. Ironbuilt can design and manufacture warehouse steel buildings with crane capacities of up to 150 tons or more and multiple crane systems that can also be engineered to operate simultaneously without compromising structural integrity.
Recycling Centers, Waste Transfer Stations
With building heights of 50' and above and clearspan widths up to 200', Ironbuilt is the perfect choice for your transfer station or recycling center. Our buildings can be designed to support conveyors and catwalks, multiple bay openings and even utilize special coatings on steel main frames if processing corrosive material. Push walls are easily incorporated into our structure as well.
Industrial Utility Buildings
Small Industrial buildings
 by Ironbuilt are ideal for generator buildings, guard houses, pump stations, pump shelters, well covers, utility buildings and electrical control rooms. If they require special features or requirements such as sound & noise control, insulated panels or fire rated walls we can provide the perfect structure, sourcing and integrating all of your special materials.
Custom Specification And Specialized Warranties
If your project requires any type of specifications or special warranties including those for weather-tightness, air or water infiltration Ironbuilt can fulfill them. Our building specialists and engineers can review your specifications, blueprints and architectural drawings and provide you with the exact product that you need. We can handle the procurement of specialized materials and apply custom coatings in order to offer the warranties and features that may be needed to complete your project. Our tremendous experience with the engineering and manufacturing of highly complex projects will streamline the process from inception to completion.
Recent Ironbuilt Industrial Building Projects Include:
Ironbuilt Industrial Metal Building Advantages
Call 1-800-805-0084 today for information and pricing on a pre-engineered industrial steel building system from Ironbuilt.