STEEL BUILDINGS STANDARD FEATURES THAT PRODUCE OUTSTANDING METAL BUILDINGS
Ironbuilt believes that exceptional product quality and personalized service is what "made in America" should stand for. The factory's American engineering, quality of materials and precision manufacturing guarantee that you receive the most weathertight and durable building sold anywhere.
If you have a specialized application requiring custom design or specifications we are prepared to accommodate you. We have in house project designers and the factory engineers will work with the customer to craft a pre-engineered metal building to fit any application.
Checkout the Ironbuilt Advantage and see how we give you a better building with quality and features the competition cannot compare to. (Click here for Ironbuilt vs The Competition brochure pdf)
Ironbuilt demonstrates its dedication to quality by supplying great steel building warranties and exceptional standard features.
Solid I-Beam Construction
Ironbuilt structural steel rigid main frames are manufactured from solid steel plate for the web and solid steel bar for the flanges sourced directly from US steel mills.  The steel main frames of every Ironbuilt metal building are completely prefabricated so no field drilling or welding is required.  This solid I-beam construction allows for extremely large widths without interior beams or posts and is all clearspan completely useable space.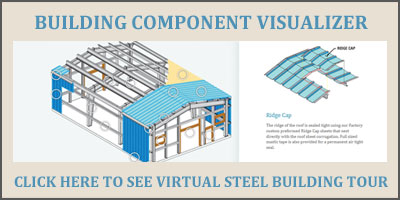 Ironbuilt steel building panels use only the best quality commercial grade American steel available, Galvalume, which has a patented coating consisting of aluminum, zinc and silicon. It is practically impervious to rust and comes with a 25 year steel mill backed warranty against rust perforation.
The steel panels are coated with an Akzo Nobel industrial paint system called Ceram-A-Star®1050. Akzo Nobel is a global Fortune 500 manufacturing company that is a world leader in durable industrial paints and resins. The Ceram-A-Star® 1050 polyester silicon baked on enamel paint is formulated using patented ceramic pigments for extreme durability. Ironbuilt and AKZO Nobel have a 40 year warranty for the painted wall panels against cracking, peeling, chipping or blistering.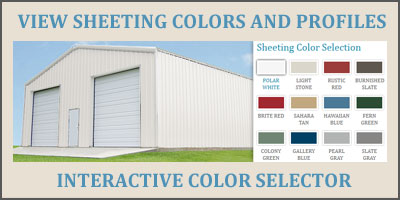 Purlin Bearing Rib (PBR) Roof Panels
Ironbuilt roofs are stronger and more weathertight because they feature a 26 gauge Purlin Bearing Rib panel that provides an extended lip on the rib where the panels overlap. The "R" panel often used by other companies is prone to leaks and structurally compromised roof seams.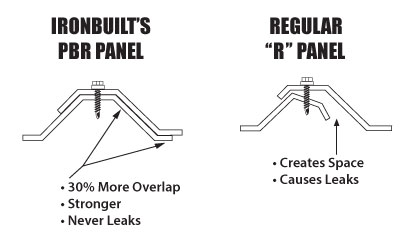 You get peace of mind with the lifetime fasteners because they have a lifetime warranty against rust. They use a drill-point tip, that simulates a drill bit, with precise cutting edges so they provide the fastest material engagement which resists slippage that can damage the paint. Every fastener is color coated to match the panel and comes prefixed with an EPDM washer for a superior seal against the elements. In addition to the roof fasteners, the wall fasteners also have a washer attached protecting the finish on the panel from scratching when the fastener is tightened down.
Missing link: factory engineers will work with the customer to craft a pre-engineered metal building to fit any application. Checkout the Ironbuilt Advantage and see how we give you a better building with quality and features the competition cannot compare to. (Click here for Ironbuilt vs The Competition brochure pdf)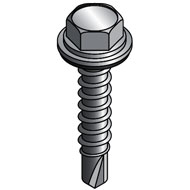 Ironbuilt does not cut corners when it comes to our trim. The deluxe trim package not only makes your building look great but is designed to functionally out-perform all others. In addition to our standard trim we also include:
Full Cover Trim for Openings Complete jamb and header color cover trim is supplied for all framed openings so there is no exposed red iron. This cover trim matches the other trim and enhances the appearance of your building
Base Angle We use a 4″ tall 14 gauge base angle where the sheeting is attached at the floor. This provides superior strength and serves as a kick plate to protect the sheeting from dents.
Base Trim  Every building comes with an attractive base trim to seal the sheeting from insects, rodents, dirt and water. We also supply a base foam closure for additional protection (no other companies supply both).
Preformed Ridge Cap  The ridge of the roof is sealed with our custom die formed ridge cap sheets that are designed to fit exactly over the roof sheet corrugation.
Galvanized Secondary Framing
The girts, purlins, and base angles in every Ironbuilt building all have a hot dip galvanized coating from the steel mill for extra rust protection.  All the Secondary Framing is prepunched for fast assembly of your prefab steel building.  A grey or red-oxide primer is also available as a standard if required by your specifications.
Every Ironbuilt building automatically includes Cable X-Bracing for increased wind strength and stability.
Any type of garage door you require can be provided to accommodate your application including sectional overhead, cylindrical roll-up, bi-fold, accordion and hydroswing and the building will be engineered for a tight fit. Only the best quality commercial garage doors are offered from Overhead Door and other major manufacturers. They can be ordered with windows, insulated and are available to withstand hurricane force winds.
All our standard walk doors are Commercial grade and come with a fully insulated core, keyed lock and a 16 gauge subframe that is designed for aggressive environments and security. They are inventoried in stock as single doors with 3' and 4' widths and double doors with 6' widths. These are heavy duty commercial walk doors and not the lightweight type of door you find at lumberyards.
Our standard sliding glass windows are extremely durable and are offered in numerous sizes. These commercial windows are available as insulated, stationary or operable horizontal slide with screen, weatherstripping and security latch.
Ironbuilt offers several insulation systems for virtually any application. The fiberglass WMP-VR insulation is available with "R" factors ranging from R-7 for basic vapor barrier to R-30 and above for commercial/residential uses. It comes with a reinforced backing to help prevent the tears and runs that cheap vinyl backed products suffer from. We also provide a maximum efficiency system that is designed to fit between the purlins and offers up to R-50 protection.
We provide a variety of other standard steel building accessories including ridge vents, louvers, reinforced skylights and wall lights, canopies, cupolas, horse stalls packages and much more. Inquire with our project designers and they will be happy to incorporate any features you may require into the design of your building.
Ironbuilt Steel Buildings are manufactured for strength and quality while still providing the best prefabricated metal building pricing. Our standard features offer exceptional value and are usually considered upgrades by other companies.