Fire Station Metal Buildings
Ironbuilt has a history of supplying metal buildings used by municipalities for public services including fire stations, EMS, police stations and courthouses. Many communities and volunteer fire departments are operating with very tight budgets and limited construction funds. Pre-engineered steel buildings from Ironbuilt will save you time and money as they can be constructed much faster than traditional building materials. They are extremely energy efficient and require little maintenance compared with wood, brick or other conventional construction methods.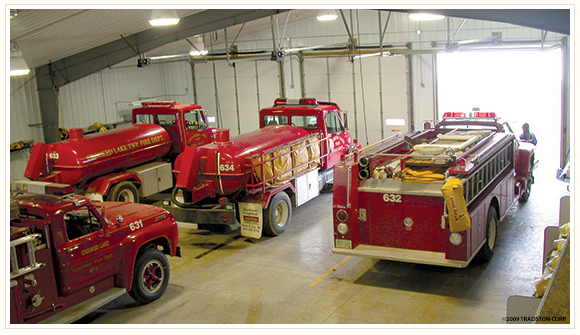 Public Safety Buildings Gallery

Government steel buildings from Ironbuilt are versatile and are easily adapted on both the exterior and the interior for the nature of your operations and the appearance your community desires. The exterior look of your fire station metal building can easily fit in with an urban to rural setting by integrating masonry walls, decorative block, brick veneer, stucco, EIFS and even wooden walls. Our buildings are fully customizable with doors, windows, skylights, vents, cupolas, gutters and downspouts and several specialty accessories.
Ironbuilt's pre-fabricated steel municipal buildings are pre-cut, pre-drilled and pre-welded at the factory so your construction process is a breeze and you are ensured a tight fitting assembly. Ironbuilt pre-engineered steel buildings. Page make you stay on your construction schedule and within budget and save you as much as 50% when comparing to traditional building materials.
Eco-Friendly And Versatile Government Buildings
The all steel construction and other features of Ironbuilt firehouse buildings make them practically maintenance free and an eco-friendly structure. They use green building technology, are fire resistant and prevent mold and termites. Ironbuilt carries a 40 year warranty on the wall sheeting paint with 16 colors to choose from that are Energy Star® "cool" colors that you can earn points towards your LEED certification. The roof panels are Galvalume® steel carrying a 25 year warranty and all steel fasteners come with a lifetime warranty. Energy efficient insulation systems are supplied by Ironbuilt as well saving you money on the cost to climate control your steel building.
Ironbuilt Steel Buildings are also perfect for waste and water treatment facilities, schools, hospitals post office buildings, bus terminals, transit buildings, park facilities, warehouses, housing, equipment storage and commercial buildings, generator buildings, hazardous material storage or hazmat buildings and durable utility buildings.
Ironbuilt Fire Station Features