Metal Building Warehouses, Prefab Steel Storage Buildings, Commercial Warehouse Buildings
Ironbuilt steel storage buildings are custom designed to handle any commercial storage warehouse need. Our preengineered design is able to span up to 200′ without interior columns and 50′ or more in height which produces the most economical prefabricated steel warehouse solution. You can easily organize tall industrial storage racks and bins for maximum efficiency while still allowing your forklifts and other vehicles to safely operate and move around with lots of room. Ironbuilt's all steel metal warehouse buildings are designed to be energy efficient and maintenance free to save you money and time.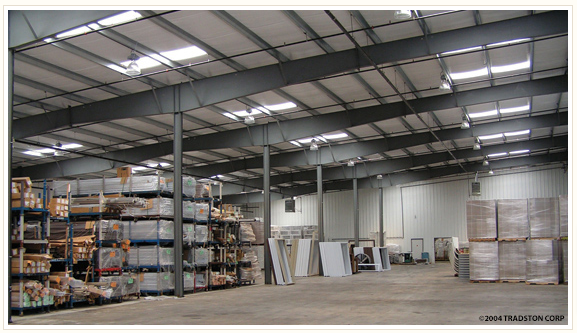 Metal Warehouse Buildings Gallery

Ironbuilt can custom engineer your building for the specific nature of your operation. We can design your steel warehouse to support several types of cranes and even sole source the entire crane system. Catwalks, conveyor systems and mezzanines for a second floor or office can also be incorporated into the design of the building.
Attractive And Versatile Warehouse Steel Buildings
A variety of attractive and appealing exteriors are easily achieved as your building can be customized to integrate the look of block, brick, stucco or even wood. Our prefabricated steel storage buildings are easily insulated with efficient Energy Star® approved insulation systems and can also be outfitted with insulated panels. Ironbuilt buildings are easily customizable with dock bay openings, doors, walkdoor covers, overhangs, breezeways between buildings, exhaust fans, skylights, gutters, downspouts and many special order accessories.
An Ironbuilt steel warehouse building can save you 50% or more compared with block or wood construction. Erected in a fraction of the time of conventional construction methods your Ironbuilt building will have you up and running considerably sooner and with large labor savings.
An Ironbuilt building will last a lifetime and provide you with years of maintenance free use. Call us today at 1-800-805-0084 so that we can help you with the pricing and planning of your next steel warehouse building project.