Custom Crane Metal Building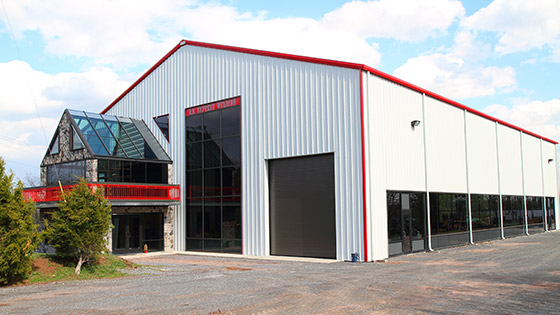 Industrial businesses require a lot of planning and foresight to ensure that  any proposed facility can smoothly integrate the equipment and machinery need for their operations and allow for future expansion.  Mark K. of Warfordsburg, PA in Fulton County, knew this and wanted to use a company that was experienced with industrial metal building design, and could provide the kind of customer service and aftermarket support that would make the process as easy as possible. 
Mark was concerned about incorporating a pre-existing overhead crane had had already purchased into his building.  He feared that it might not attach properly and he would have to spend more money on a new crane, or spend a fortune on the engineering for a new steel building.  Luckily for Mark, the engineers at Ironbuilt design for overhead cranes all of the time, so it was standard procedure for them to safely design the crane into Mark's industrial steel building. 
"They did all the proper engineering I needed for my 5-ton overhead crane.  I was really pleased with them with the engineering they did for me and it didn't cost me a whole bunch of extra money," Mark told us.
The crane is an integral part of Mark's industrial window fabricating business as it allows him to move around the large framing he fabricates.  Mark has a fabulous reputation in the Northeast, particularly in major cities including Philadelphia, Baltimore, Washington and New York City.  He is known for large commercial windows done with precise craftsmanship and careful installation, much like the windows he installed in his own metal building.  These windows are absolutely beautiful, letting in natural light during the day and they make the building look stunning at night when the lights are turned on inside.  Mark's work on his own building is a great representation of the incredible work he does for his customers and he's quite proud of it.
As lot of Ironbuilt's customers do, Mark decided to put up his own building.  "This was a pretty easy erection.  I put the building up myself," Mark said.  After the building was delivered, Mark decided to use more custom fabricated windows in his industrial crane building than originally planned.  To accomplish this customization he needed additional trim and other components.  Mark told us, "Ironbuilt has been good to me with the customer service.  I needed some more trim for all the windows I put into the building.  I called them up, they got it made right away and they got some shipped to me."  Since Mark is close by in Pennsylvania, he did not lose any time.
Beginning with the design process and lasting well past the erection of the building, Mark would take progress pictures as the building was being erected and send them over to the delight of the Ironbuilt design team.  Everyone was excited as they have never seen craftsmanship like this before.  Their working relationship was a great one and Mark appreciated the dedicated support, as he told us, "The owner of Ironbulit liked what we did to the building.  I'm telling ya, you couldn't ask for a nicer guy to deal with.  He's a down to earth guy and will bend over backwards for you."
Mark is thrilled with his building and is a prime example of the custom design possible in an industrial metal crane building.  "Whatever you desire you can do with an Ironbuilt steel building," Mark went on to say, "Whatever you want."
Testimonial Reference Photo Gallery