RV Storage Building With Two Lean-tos
When Paul Borrmann, of Gilroy, CA, began his search for a steel garage building, he had specific requirements that needed to be met and knew what he wanted his new structure to look like.  He wanted it to fit into the rural landscape, but did not want to compromise on strength or quality.  After discussing his project with Ironbuilt Steel Buildings, Paul knew he found a company that was going to provide him with a steel building exactly the way he wanted it.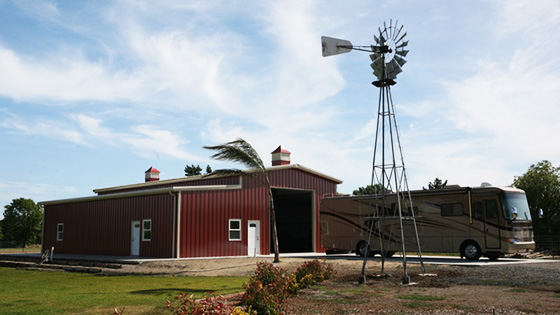 Needing storage for his RV and cars, Ironbuilt designed Paul a main structure of 30'x60'x17′ with two 15'x60′ lean-tos, one coming off each side and a 1' overhang for accent all the way around. The main structure houses his RV, while the lean-tos provide space for his cars and tools and give his building a great old-fashioned barn style look. To top it off, Paul ordered two cupolas to put on the roof and installed his own vintage windmill right in the front of the building.
"I'm very happy with my steel building and get a lot of compliments on it," Paul said.
It's easy to see why when the sun sets in the distance behind Paul's garage steel building and adjacent windmill creates a very picturesque scene.
Like his hot rods and RV, Paul's steel building is still in perfection condition and helps keep things neat on the inside. He plans to install solar panels on the roof in the very near future so his showpiece building will also incorporate the latest green building technology.
Testimonial Reference Photo Gallery