Pool Cover Steel Building in Florida
Holley by the Sea Recreation Center
Navarre, FL
In September of 2016 Holley by the Sea Recreation Center in Navarre, FL decided to construct a permanent metal building swimming pool cover. Every winter the center had to put up a temporary dome to enclose the pool which was labor intensive and cumbersome. The center's contractor chose Ironbuilt Steel Buildings because of their prices, their quality and they were able to supply a certified erector to put the pool enclosure up.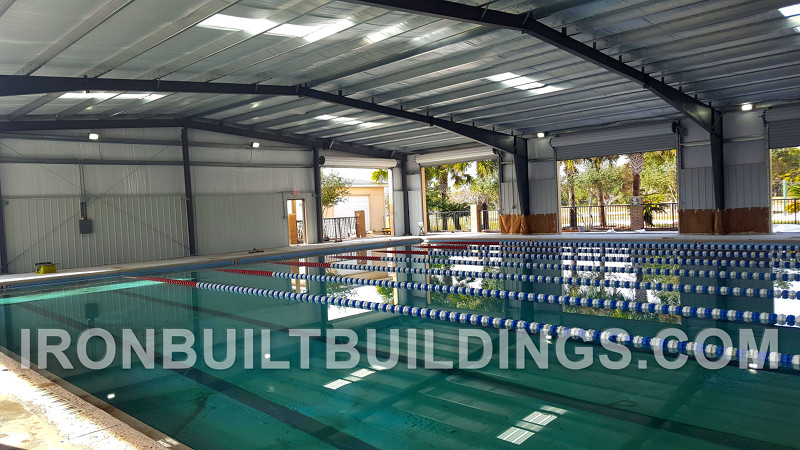 The swimming pool enclosure recreational steel building was designed by Ironbuilt to meet the Florida hurricane approval code and to match the color and style of the other buildings on the property. Eight large garage doors and two double entry doors can be opened in the summer with fans to help keep the air moving. In the winter the building can be closed and kept comfortable as it is insulated and has a heater and dehumidification system. Restrooms were built out inside as well as a handicapped accessible pool lift and skylights in the roof allow for natural lighting.
The steel building pool cover was ordered and constructed quickly allowing the pool to open to the center's members January 23rd 2017. "During the summer the pool is used by 200-300 people per day" said Salazar and "the pools are used by our own swim team, ladies water aerobics, a ton of members enjoy the facility. Holley by the Sea is a unique entity. It's nice for the members to come out an fully enjoy their money at work".