Metal Commercial Retail Building
Joe Seneshale, Owner of Pet Depot
Gillette, WY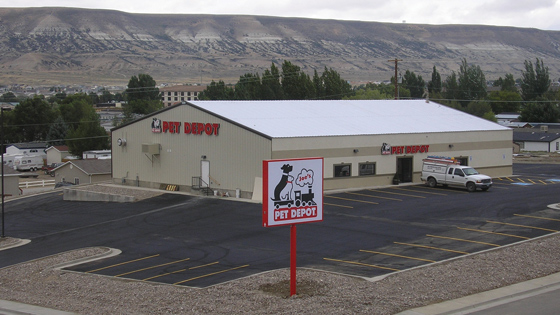 Joe Seneshale contacted Ironbuilt about a commercial steel building to use for his retail pet supplies store in Rock Springs, Wyoming.
Ironbuilt worked with him to design his retail metal building for his specific needs for both functionality and appearance. He wanted the exterior to incorporate an attractive façade that appealed to and engaged potential customers and the interior to allow for retail and warehouse space. Joe, drawing on Ironbuilt's years of manufacturing and design experience, was able to incorporate more into his steel building than he previously thought possible.
He was able to give his preengineered metal building an attractive retail store look without the much larger costs of conventional material construction.
The following is a testimonial directly from Joe Seneshale:
"I bought my Ironbuilt steel building to use as my pet store, which is the heart of my business. I did extensive research to find the best quality possible for my building. I wanted a tall clear span building to give the store a large, open feeling and it allows for lots of room for my shelving. The roof was designed for me to hang my HVAC ducts and lighting. This building is highly visible on a busy road, so we integrated a stucco wall into the design and it came out looking great! The building went together so easily my contractor gave me a discount when it was finished!"
"Ironbuilt was great to work with through the whole process. I explained to them how important this project was for my business and they treated me like it was for their business. I am expanding and adding stores soon and I will definitely use Ironbuilt for them."
Testimonial Reference Photo Gallery